The Žumberk fortress is located in the village of the same name 7 km south-east of the small town Trhové Sviny, 500 m a.s.l.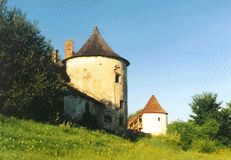 The first mention of the castle dates back to the 13th century. It had many proprietors and in 1618 it became a part of the domain of the castle town Nové Hrady. At the beginning of the 17th century it was rebuilt into the Renaissance style and all the village was fortified with walls with six round bastions. The last reconstruction was in the 19th century and the village changed its original appearance.
In the 1970's the village was completely reconstructed and it is now in good condition. The museum is located in the building of the original fortress.
The original parochial Gothic Church of the Beheading of St. John the Baptist is first mentioned in 1332. It was burnt down by the Hussites in the first half of the 15th century. The new building originates from 1455. Its interiors were restored after the big fire in the first half of the 19th century. The four-aisled church with the square layout is arched with the tracery vault.
The cyclist instructional trails Paměti Novohradska ("Memory of the Nové Hrady Region") and Paměti Slepičích Hor ("Memory of the Slepičí Hory Mountains") pass the village. The instructional trail Krajinou Humanity (Countryside of Humanity) leads not far from Žumberk (about 3 km west).