Trhové Sviny is a small town on the Svinenský Potok (Sviny Stream) about 20 km south-east of the town České Budějovice, 458 m a.s.l.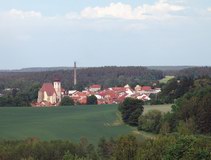 The original settlement was founded in the middle of the 13th century below the former Sviny castle (sometimes called Svinice) near the trade route. The settlement was named after the Sviny castle. The village is first mentioned between 1260 - 1281 as property of Ojíř of Sviny. In 1420 the Hussites captured and burnt down the town with the castle. Then the town developed in the 15th century and became a market town, which was renamed Trhové Sviny ("Market" Sviny). The castle became ruins and at the end of the 16th century was used as a source of building material.
The dominant building of the town is the Church of the Assumption of Virgin Mary, one of the most valuable Gothic sights in South Bohemia. It originates from the 13th century, but it is first mentioned as late as 1317. It was reconstructed in the Late-Gothic style and enlarged into a three-aisled church between 1485 - 1510. The second tower was added in 1520. The older one originates from the middle of the 14th century.
The church aisles and the pentagonal presbytery are arched with tracery vaults.
The main altar and furnishings are in the Baroque style from the 18th century. The most valuable monuments are the Gothic wooden Madonna from 1520 (on the main altar) and the boards with the theme of apostles from the first half of the 17th century.
Emil Hácha, the Czechoslovak president at the end of the 1930's, was born in Trhové Sviny. The plaque and bust can be seen on his natal house.
The pilgrimage Baroque Church of the Most Holy Trinity stands about 1 km south of Trhové Sviny.
The instructional trail Trhosvinensko ("Trhové Sviny Region") begins in the town. The instructional cyclotrails Paměti Novohradska ("Memory of the Nové Hrady region") and Paměti Slepičích Hor ("Memory of the Slepičí Hory mountains") pass through Trhové Sviny. The instructional trail Krajinou Humanity (Countryside of Humanity) leads through the area near the small village Chvalkov (about 5 km south).
nature park Terčino Údolí
Červené Blato peat-bog
memorial in Trocnov
Žumberk fortress
village Římov
village Besednice
small town Horní Stropnice
town Nové Hrady