The village Horní Stropnice lies about 5km south-west of the town Nové Hrady on the Stropnice river, 543 m a.s.l.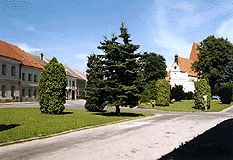 The first mention of the village originates from 1259. The important sight is the St. Nicholas' Church from the first half of the 13th century. This originally Romanesque building was reconstructed in the Late-Gothic style around 1500. In spite of this reconstruction a lot of Romanesque elements have been preserved, mostly on the tower.
The three-aisled church is arched with the tracery vaults on 6 pillar columns. The main altar originates from 1649, the other furnishings are from the second half of the 18th century.
The Marian Column with four Baroque statues has been standing in the square in Horní Stropnice since 1765.
The instructional cyclist trail Paměti Novohradska ("Memory of the Nové Hrady region") passes through the village.