Myslivna mountain (1,040 m) is the second highest peak of the Novohradské Hory (Nové Hrady Mountains) about 10 km south of the small town Benešov nad Černou.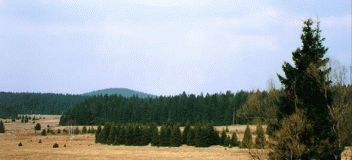 A lot of interesting rock formations can be seen around the top. A part of the peak, which has a mountain forest with beeches and spruces, is the protected area. The observation tower on the top offers a nice view of the surroundings. At the southern foot of the hill there is an extensive peat-bog called Pohořské Slatě (Pohoří Fens).

There are not tourist marked trails on the mountain.