The nature reserve Žofínský Prales (Žofín Forest) is situated near the village Žofín in the Novohradské Hory (Nové Hrady Mountains) about 10 km south-east of the small town Benešov nad Černou.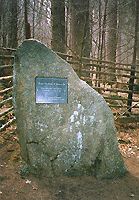 The cold rainforest has been protected here since1838 and this reserve was established as the first in Bohemia, together with near reserve Hojná Voda, by Jiří Buquoy (the owner of this domain).
The area of the reserve is 98 ha, but the original natural forest lies only on 44 ha. The dominant trees of this forest reserve are beeches, spruces and firs, which were the biggest and the oldest trees in this forest in past. The so-called "Queen of Firs", the biggest tree in the reserve, stood in the southern and higher part of the reserve. It was broken during a storm in 1975. It was 425 years old, 51 m high and it contained about 44 cubic metres of wood.
The reserve is fenced for the protection against the wildlife and the access for public is allowed only with a guide.
The forest path from the small village Žofín leads to the reserve. The green marked trail, which leads between the villages Hojná Voda and Pohorská Ves, runs around the reserve.