The Kratochvíle chateau stands about 3 km north-west of the town Netolice. It was built by the Rožmberks in order to be their new residence not far from their Helfenburk castle.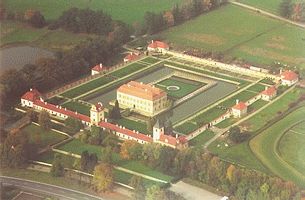 The chateau was built between 1583 - 1589 according to the design of Italian Renaissance villas by the Italian architect Baltazar Maggi. There is a constructional interest - its foundation in marsh is reinforced by oak and alder beams to improve its stability. The chateau was modified in the 17th century by Jakub Maggi - the original courtyard called Leptač in the chateau place was destroyed, two bastions were built and the central gate was reconstructed. Minor adaptation were made at the turn of the 19th century, but the chateau dilapidated to the point of needing reconstruction in the 1950's.
Other important owners after the Romžberks were the Eggenbergs and the Schwarzenbergs.
There are unique Renaissance interiors with rich stucco decorations (by Antonio Melani) and fresco paintings (by Jiří Widmann) in the chateau, preserved up till now. One of the most valuable interiors in Bohemia is represented by the Golden Hall.