The town of brewing Protivín is situated 12 km south-east of the town Písek in the valley of the Blanice river, 383 m a.s.l.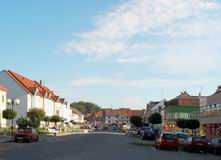 It used to be a village with a Gothic castle, which was first mentioned in 1282. In the 14th century the castle became property of the Rožmberks. Later the castle and the village were attached to the domain of the castle town Hluboká nad Vltavou after 1527. From the beginning of the 18th century they were under the ownership of the Schwarzenbergs and the town became a centre of the large domain. In 1715 big fire destroyed most of the town.
The former Gothic castle, which stands on the southern outskirts of the present town, was rebuilt into the Renaissance chateau in 1600. It was first reconstructed in the Baroque style at the second half of the 17th century. Its present appearance is from the reconstruction under the design of the Schwarzenbergs' architects P. I. Bayer and A. E. Martinelli, it was between 1717 - 1731. The large park can be found behind the chateau.
The Early-Baroque St. Elisabeth's Church was founded in the second half of the 17th century on the northern side of the square. The single-aisled church has the rectangular presbytery and it is arched with the barrel vault. The furnishings originate from the Rococo period.
The Pseudo-Renaissance school with graffiti, which was built under the design of the Czech painter Mikoláš Aleš, is located on the southern outskirts of Protivín.
The oldest brewery in South Bohemia has been working in the town since 1520. The long line of plane trees, which gave the name to the local beer (plane tree = platan in Czech), runs to the brewery.
| | |
| --- | --- |
| | |
An important Czech poet Jiří Kolář was born in Protivín.
The instructional trail Zelendárky leads in the vicinity of the town.
The ruins of the Božejovice fortress can be found about 5 km north-west of Protivín in the neighbourhood of the settlement Skály.
nature reserve Řežabinec
village Albrechtice nad Vltavou
small village Neznašov
small village Ražice
small town Bavorov
town Vodňany