The small town Stachy is a centre of the large winter recreational area between Javorník and Churáňov mountains. It is situated about 12 km north-west of the town Vimperk on the border of the Protected Landscape Area Šumava (Bohemian Forest), 740 m a.s.l.
This area was probably settled at the beginning of the 16th century. Then the settlement called Stachy was founded here near the glassworks. It was one of eight centres of the so-called Králováks and it had many privileges dedicated by the Emperor.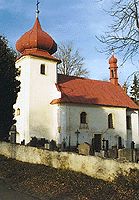 Several houses with the characteristic appearance of the urban architecture of the 18th and 19th centuries can be seen in the town. The characteristic trait is the connection of the residential and farm buildings.
The former Renaissance rectory, which stands in the square, was rebuilt through time and it is used as the town hall in present.
The originally Baroque Church of the Visitation of the Virgin Mary from 1781 stands in the square as well. Its present appearance originates from the Napoleonic reconstruction between 1842 - 1849.
The Church of Our Lady of Sorrow in the cemetery was founded in the Late-Baroque style in 1781.
The special place of interest is the edible boletus reserve in the square. They grow free there and each of them has a label with the date of birth.
Churáňov mountain
Javorník mountain
Královský Kámen mountain
Jezerní Slať peat-bog
small village Nicov
village Zdíkov