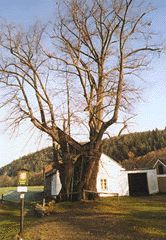 The Sudslavická Stezka (Sudslavice Path) is a famous nature trail, which leads around the small village Sudslavice (about 5 km north of the town Vimperk) in the nature reserve Opolenec.
The trail acquaints visitors with various flora and fauna in the territory on crystallic limestone. Besides that, it points out at some significant geological and geomorphological interests.
Access to the trail is from the road between the towns Vimperk and Čkyně, from the parking-lot about 5 km behind Vimperk. The first informative board can be found a few meters back, cross the foot bridge over the Volyňka river.
The circular path is about 4 km long with 26 informative boards. It is passable only for hiking tourists. At several places it is needed to overcome height difference with ladders attached to rock. The trail is marked by the green-white signs.
Interesting places on the trail:
Lime tree - memorable, over 600 years old tree with the girth of the trunk over 12 m
Sudslavická Jeskyně (Sudslavice Cave) - finding place of remainders of the Pleistocene animal skeletons
Rock formations along the trail formed into bizarre shapes
Tourmaline "suns" - spokes of tourmaline in the shape of sun in the rock