The chateau stands above the town Vimperk above the stream of the Volyňka river.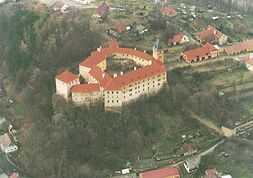 The history of this chateau dates back to the 13th century when its function was to protect the trade route Zlatá Stezka (Golden Path). In the 15th century the castle and the town were fortified. In the year 1619 Vimperk was conquered by a professional army and the castle was damaged by fire. After that, between 1622 and 1624, a new Renaissance palace was built. The chateau burnt down again in 1665. The new owners - the Schwarzenbergs (since 1719) - reconstructed the chateau in the first half of the 18th century and then again after the subsequent fire in 1857.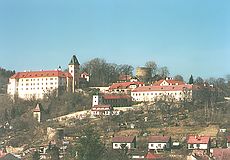 The chateau comprises three parts. The oldest is the original castle (now Upper Chateau), Lower Chateau and front fort Haselburk (1479) with round tower and with remains of dual ramparts. The oldest parts of the castle are the keep called Vlčkova Věž (Vlček's Tower) and the Gothic enclosure walls.
At the end of the 15th century the castle and the town were fortified together into one defense unit with four gates and five bastions. Only one gate - Černá Brána (Black Gate), which was originally reinforced with a drawbridge - and bastions remain.
An important part of the chateau is the long arcade gallery close to the tower, which was built at the beginning of the 17th century.
The town museum with exhibitions of the history of glass-blowing, typography, nature of the Šumava mountains and history of the town is now in the chateau.