The holiday centre Horní Planá lies about 20 km south-west of the town Český Krumlov on the left bank of the Lipno Dam in the Protected Landscape Area Šumava (Bohemian Forest).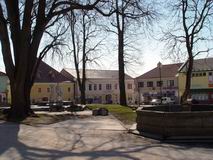 The village was founded by the monastery Zlatá Koruna before 1332 near the ford across the Vltava river. The originally small village with a few of houses became the most important market centre of the region and in 1349 it became a small town. Its name was Planá, but during the 16th century it was changed to Horní Planá ("Upper" Planá). Horní Planá retains its good status and it was place of two annual fairs and since the beginning of the 17th century of four annual fairs.
The importance of the village declined in the 20th century, but it became a well-known and favourite tourist centre after the completion of the Lipno Dam.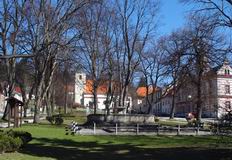 The valuable St. Margaret's Church on the upper outskirts of the village originates from the second half of the 13th century. The originally Gothic church was extended and reconstructed in the Baroque style at the end of the 17th century and in the middle of the 18th century. The valuable furnishings from the 17th and 18th centuries and the figural wall paintings from 1530 - 1580 can be seen inside. The two-aisled building is arched with the cross vault and the presbytery is arched with the barrel vault.
The Baroque Chapel of Our Lady of Sorrow stands on the small hill above the village.
The writer and poet Adalbert Stifter was born in Horní Planá. The museum with an exhibiton of his life and work can be visited in his house of birth. About 6 km long instructional trail with nice views of the country starts by this house.
Trojmezná mountain
Plechý mountain
Plešné Jezero lake
Schwarzenberský Kanál canal
small village Nová Pec
village Černá v Pošumaví
village Hořice na Šumavě
church in Zvonková