Plešné Jezero (Plešné Lake) lies on the slope of Plechý mountain (1,378 m) in an elevation of 1,089 m about 17 km south of the town Volary in the Šumava mountains (Bohemian Forest).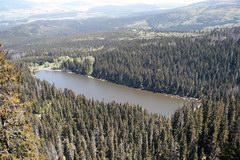 It is one of five morainic lakes on the Czech side of the Šumava mountains. An approximately 1 km long glacier dug the corrie and stacked the 30 - 40 m high moraine. The rock face, which looms above the lake, is about 200 m high.
The area of the lake is 7.5 ha and its maximal depth is 18 m.
The Jezerní Potok (Lake Stream) takes water from the lake to the Vltava river.
The monument to the memory of the writer Adalbert Stifter stands on the cliff above the lake (on the yellow marked tourist path).
The sea of stones with huge granite boulders can be found near the northern edge of the lake (near moraine).
The lake can be found on the yellow marked trail, which leads from the top of Plechý mountain or on the green marked one from the small village Jelení (about 7 km). The blue sign, which leads from the small village Nová Pec, joins the green one leading to the lake from Jelení (about 10 km).