The Schwarzenberský Kanál (Schwarzenbergs' Canal) is a very important South Bohemian technical site. It leads along the Czech-German and Czech-Austrian borders. It joins the river-basins of the Vltava river and the Danube river and it goes across the main European watershed.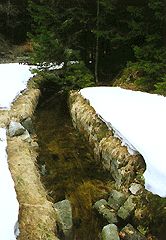 It was built between the years 1789 - 1822 by the Czech architect and civil engineer Josef Rosenauer for its sponsors - the family of Schwarzenberg. It was used for supplying the Austrian capital Vienna with firewood and timber.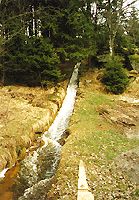 The canal begins near the village Nové Údolí, which is located near the village Stožec - 8 km south-west of the town Volary near the Czech-German border, on the hillside of Třístoličník mountain ("Three Stools Mount") in 916 m a.s.l. It leads east towards the small village Jelení. Near the village it runs via the 389 m long underground tunnel. The tunnel is a technical site too. It has stone portals on both sides - the upper one is in Neo-Gothic style, the lower one is Napoleonic. Then the canal runs from the tunnel to the east of Plechý mountain in the hills. Here it takes water from the brook running from Plešné Jezero (Plešné Lake). At their confluence there is a wooden Rosenauer Chapel from 1818. Near the small village Zvonková the canal enters Austria. The canal comes back to the Czech Republic again, but only briefly, below the Vítkův Kámen castle and then it runs back into Austria and empties into the Mühl river (a left tributary of the Danube river).
The Schwarzenberský Kanál is 44 km long and 3.5 - 4 m wide. Its banks are built of brick and its bends are tiled by granite. The average depth is 1 m. It was used for the transport of lumber up to 24 m long.
The instructional trail leads along a part of the canal between Nová Pec and Jelení. It acquaints visitors with history of timber-floating and construction of the canal.
The access to the canal is possible by the red sign from Nové Údolí to the monument to Josef Rosenauer (about 2.5 km) and then by yellow, green and blue ones along the canal into the village Nová Pec. Another way is from Jelení to the portals of the canal tunnel.
The path of the instructional trail Mědvědí Stezka (Bear Path) also leads along a part of the canal (about 1 km) near Jelení.