The instructional trail Schwarzenberský Kanál (Schwarzenbergs' Canal) runs along the part of the Schwarzenberský Kanál in the area of Trojmezenská Hornatina (Three Landmarks Highlands) between the settlements Nová Pec and Jelení in the National park Šumava, at the beginning of the Lipno lake, about 15 km southwest of the town Volary.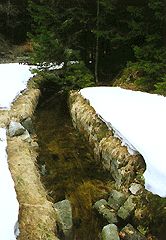 It acquaints visitors with the history of timber-floating in the Šumava mountains, with the history of the canal and its designer Josef Rosenauer, and with other technical works built together with the canal construction.
Access to the trail is possible from Nová Pec (parking-lot in the settlement Raškov nad Novou Pecí) along the green marked tourist route leading to the canal. The path continues along the canal and it ends after 9 km by the lower portal of the tunnel on the canal near the settlement Jelení.
On the trail there are 6 informative boards. The trail is passable for both pedestrians and cyclists, in winter it is also accessible for cross-country skiers.
Interesting places on the trail:
Tunnel of the canal near Jelení - 400 m long with two interesting portals
small lake near Jelení
Rosenauers' reservoir
Rosenauers' chapel
Aqueduct near the village Rossbach
Říjiště - feeding reservoir for the canal