The ruins of the Gothic castle Vítkův Kámen ("Vítek's Stone") are situated on the top of the mountain Vítkův Kámen (1,053 m) above the Lipno Dam about 4 km from the Czech-Austrian border. It is the highest located castle in the Czech Republic.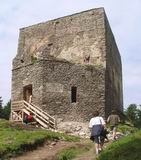 The castle was founded in the 13th century by the family of Vítkovec as a border fortress. It became an administrative centre of the region. In the 14th century it was property of the Rožmberks, who fortified it during the 16th century.
The castle was kept till the 18th century - the last reconstruction was in 1725, but it was abandoned in the middle of this century. After the Second World War the army used it.
The core of the castle was formed by the tower with the small palace. The remains of it and remains of the walls with five bastions have been preserved up till the present day.
Access to the ruins is possible along the red marked road from the small village Přední Výtoň (about 10 km) or from the village Frýdava (on the right bank of the Lipno Dam) along the yellow and red marked paths (about 8 km). The small village Svatý Tomáš is accessible by a car and it lies about 500 m below the castle.
The instructional trail Svatý Tomáš leads in the countryside round the catle.