Třístoličník mountain ("Three Stools Mount" - 1,311 m) lies on the border between the Czech Republic and Germany in the Šumava mountains (Bohemian Forest) about 10 km west of the small village Nová Pec.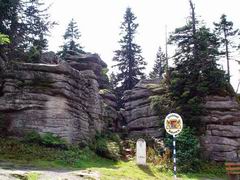 On the top there is a place with a beautiful view of Germany and the Alps on an interesting rock formation and a hotel with restaurant (in the German part). The mountain was named according to three stone blocks with small dishes near the peak, which look like thrones. Legend says, that the Kings of Bavaria, Austria and Bohemia discussed here the line of the state borders.
The monument to the designer and founder of the Schwarzenberský Kanál (Schwarzenbergs' Canal) - Josef Rosenauer - stands at the foot of the Třístoličník mountain not far from the small village Nové Údolí. The watercourse of the canal leads around this place, which can be found on the sierra trail leading from Nové Údolí.
The red marked sierra trail leads from Nové Údolí (about 12 km south-west of the town Volary near the Czech-German border) over the peak of Třístoličník mountain. It continues across Trojmezná mountain ("Mount of Three Landmarks") to the peak of Plechý mountain. The trail leads along the forest path, which goes along the fall line, and the journey is very difficult.