The path of the instructional trail Alšova Stezka (Aleš's Instructional Trail) goes through the countryside among the small towns Mirotice, Rakovice, and Čimelice, about 18 km north of the town Písek.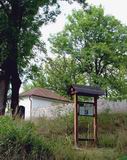 Homeland study orientation of the trail is projected in individual stops, at which historical, natural, and archaeological interests of the region are presented to the visitors.
The trail connects Mirotice with Čimelice. The point of departure and first stop are in Mirotice. Then the trail continues through the settlements Boudy and Rakovice to Čimelice. There are 9 informative boards along 12 km long trail.
The trail is intended to hiking visitors, and it may be also used by cyclists.
Interesting places on the trail:
Mirotice - monuments of Mikoláš Aleš and Matěj Kopecký, St. Gilles' Church
Logan stone - near vilage Boudy
Malý Kosatín - protected area with unique botanical species
Rakovice - chateau
Čimelice - chateau, Church of the Most Holy Trinity, Napoleonic tomb