The small town Čimelice lies about 20 km north of the town Písek on the Skalice river, 474 m a.s.l.
Archeological discoveries reveal people already living here in prehistoric time. On the left bank of the Skalice river there were found remains of the Celtic settlement.
The village Čimelice was property of the Royal Chamber till the middle of the 15th century. At the beginning of the 16th century it was under the ownership of the Dejm family of Střítež. They built the system of ponds around the village. In 1840 it became property of the Schwarzenbergs.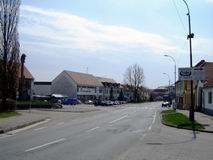 The most interesting sight of the town is the Baroque chateau. It was founded in the first half of the 18th century and it was surrounded by the large English park. The original fortress (probably from the 13th century) was rebuilt into the Baroque granary and it stands near the chateau.
The Napoleonic Church of the Most Holy Trinity in the square was originally built in the Gothic style in the 13th century. During the Baroque period it was reconstructed for the first time and its present look comes from the reconstruction in 1822.
In the cemetery lying near the road to Písek there is the Napoleonic tomb of Vratislav family built in 1819 in the appearance of a Greek church.
The workshop - smelting works - of the sculptor Jan Hammer worked from 1737 in the town. A lot of works were made here for the whole area. The sculptures can be found in the cemetery and square in Čimelice and on the stone bridge in Písek.
Not far from Čimelice (near the road to the castle village Orlík nad Vltavou there is the old millhouse called U Diků (Dik's Millhouse) where the capitulation of the German Schörner's Army was ratified on 11th May 1945. It was the official end of the last fightings of the Second World War in Europe.
The instructional trail Alšova Stezka (Aleš's Instructional Trail) leading from the small town Mirotice ends in Čimelice.