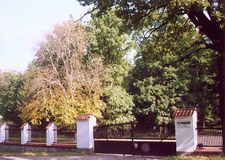 The game preserve Sedlická Obora (Sedlice Deer-park) lies near the small town Sedlice not far from the town Blatná.
This large preserved area (257 ha), which is separated into two parts, was used for breeding fallow deers and wild boars. The nature reserve (20 ha) with old lime trees (about 200 years old) and beeches is a part of the Sedlická Obora as well.
The central gate can be found on the road from the town Písek, ahead of the small town Sedlice. The red marked path from Sedlice (about 3 km) or from the town Písek (about 15 km) leads to the deer-park.