The town Blatná ("Town in Marsh") is well-known for its Renaissance chateau with the same name. Blatná lies about 25 km north-west of the town Písek in the countryside full of ponds along the Lomnice river, 440 m a.s.l.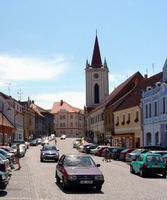 The first mention of the town originates from the 13th century. The fortified settlement, with the village around it, became a small town about 1300. In 1601 it was promoted to the town. The history of the town was connected with the development of the chateau. It was built and developed under the ownership of the Lords of Rožmitál, who owned the town till 1579. This period, mainly during the life of Zdeněk Lev of Rožmitál, was the time of the bigges flowering of the town.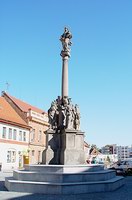 The most important sight is the water chateau, which was founded before 1400.
The valuable historical building is the Late-Gothic Church of the Assumption of Virgin Mary. It was built not far from the chateau in the place of the original sacral building, which was used within the new one as a sacristy.
The St. Michael's Chapel stands north of the church in the cemetery. It originates from 1515 and it is arched with the diamond vault. Its present appearance, with cloister, comes from the second half of the 18th century.
The town is sometimes called "town of roses" due to the old and strong tradition of cultivation of roses which was founded by the famous breeder Jan Böhm.
The poet Jan Pravoslav Koubek and singers Karel Strakatý and Anna Draždíková were born in Blatná.
valley of the Lomnice river
Sedlická Obora deer-park
small village Bělčice
small town Sedlice
small village Paštiky
town and chateau Březnice