The small town Březnice is situated about 17 km north of the town Blatná on the small river Vlčava (also called Skalice on upper and middle reaches), 462 m a.s.l.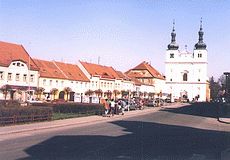 The history of the town dates back to the 13th century - there was a Gothic fortress (or castle) in the place of the current chateau for the protection of the trade route. In the 14th century the silver mines were founded in the surroundings of the village. Thanks to them the importance of the town grew. In 1422 the fortress was burnt down. At the end of the 15th century its ruins were rebuilt into the Renaissance chateau. The Lords of Lokšany acquired the town at that time and it was the beginning of its biggest growth.
The most known sight is the chateau, reconstructed at the end of the 20th century. There is the gallery of the painter Ludvík Kuba and the town museum in the complex.
The originally Jesuit Church of St. Ignatius of Loyola is the dominant feature of the town. It was built between 1642 - 1650 and it is arranged with valuable carvings.
The significant sight of town layout is the Jewish ghetto called Lokšany, which was founded in 1570 by Ferdinand from Lokšany. The district lies near the town square and it has its own small square, the small Napoleonic town hall and the small Baroque palace of the family of Lokšany.
The small St. Roch's Church (1643 - 1649) stands in the cemetery south of the square.
Another sight of the life of the Jews in Březnice is the old Jewish cemetery, which lies about 0.5 km north of the town on the right side of the road in the direction of the small town Rožmitál pod Třemšínem.
small village Paštiky
small town Mirovice
small town Čimelice
village Bělčice
town with chateau Blatná
Orlík nad Vltavou chateau
Memorial near Lety
Žďákov Bridge