The small town Mirovice lies about 25 km north of the town Písek and about 7 km south-west of the town Březnice on the Skalice river, 433 m a.s.l.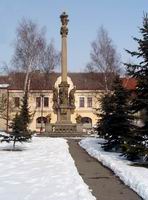 Mirovice was founded in the 13th century. The St. Clement's Church stood here as early as the 14th century. During the Hussite Wars the town was raided. At the turn of the 16th the town obtained rights for annual markets, beer brewing and to collect tolls.
During the Thirty Years' War the town was plundered again. A new development started in the 18th century.
The originally dean's Gothic St. Clement's Church stands not far from the square. It was built in the 14th century and later it was reconstructed in the Baroque style.
A valuable Marian column from 1717 can be found in the park in the square.
The old Jewish cemetery is situated north of Mirovice. It originates from 1680 and it was used till the Second World War.
Orlík nad Vltavou chateau
Zvíkov castle
small town Čimelice
town and chateau Blatná
town and chateau Březnice
memorial near Lety