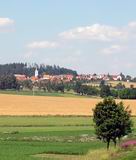 The village Bělčice lies about 8 km north of the town Blatná, 652 m a.s.l.
The history of Bělčice dates back to the 13th century. In the 15th century it was promoted to a small town.
The most important sight of the village is the Gothic Church of Sts. Peter and Paul. The originally Romanesque church was founded about 1240.
The Czech poet and novelist Ladislav Stehlík was born in Bělčice.
Traces of the fortress around the pond called Hrádek ("Small Castle") can be found about 0.5 km west from the village.