The chateau stands in the town Blatná about 20 km north of the town Strakonice on the bank of the Lomnice river. It is - in common with the chateau Červená Lhota - one of the best known water castles.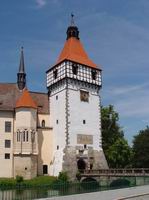 Originally it was a water fortress dating from the beginning of the 13th century. At the end of the 14th century a castle was built in this place. The new Renaissance palace was added between 1523 - 1530. The whole complex was rebuilt into the Gothic style between 1850 - 1856.
The wide English park around the chateau was formed from the orginal game preserve and it is connected with the chateau by a wooden bridge.
The most known owners of the domain were the Lords of Rožmitál, the Šternberks and the Hildprandts.
The exhibition about the naturalist J. E. Purkyně is located in the chateau. He worked here as an educationalist in the 18th century under the owners, the Hildprandt family.