The small town Sedlice lies about 7 km south-east of the town Blatná, 512 m a.s.l.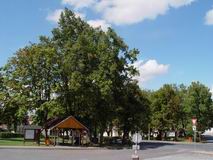 It also used to be called Sedlec in past. In 1539 the village became a small town with its own coat-of-arms. It became a town in 1801.
The girlish school of lacemaking was founded in Sedlice in 1900. The lacemaking was the only means of subsistence for a lot of local people. The unique school worked till the end of the 20th century.
The fortress, which was built near the square in the Middle Ages, is used as a restaurant in present. The Renaissance mansion with graffiti originates from the 17th century.
The St. James' Church, which stands near the square, was built in the place of the original Gothic church from the 14th century. It was built in the Baroque style between 1747 - 1752.
There are a lot of ponds in the wooded surroundings of Sedlice, which are used for recreation and fishing. The Sedlická Obora (Sedlice Deer-Park) lies there too.
The well-preserved old Slavonic burial mounds can be found in the neighbouring forest, which is called Kamenice.