The small town Kašperské Hory is a well-known medieval centre of the gold mining. Now it is a summer and winter holiday resort. It lies on the upper reaches of the Otava river on the border of the Protected Landscape Area Šumava (Bohemian Forest) below the ruins of the Kašperk castle. The small town is situated about 10 km south of the town Sušice, 739 m a.s.l.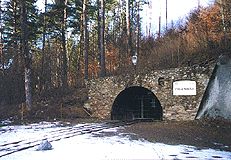 The development of the village (and later the town) was every time related to gold mining around it. At the beginning of the 14th century the village grew quickly and it became a small town. The town was very rich and it could help King John of Luxembourg (ruler between 1310 - 1346) and it helped him with 600 armigers in fights. The town obtained a lot of privileges of the free mining town. King Charles IV founded the new Kašperk castle above the town for the protection of mines in 1356.
In the 16th century the gold mining declined, but the town still grew. In 1584 the town raised to the status of a royal mining town. It bought majority of domains around and in 1617 it bought the Kašperk castle too. The name Kašperské Hory comes from that time (it means "Kašperk Mountains").
After the Thirty Years' War the gold mining was not restored again and in 1777 it was totally stopped. In the 19th century a timber management developed here, mostly the production of safety matches.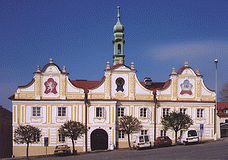 The dean's St. Margaret's Church from the 14th century stands in the square.
The Renaissance town hall was built in the western part of the square in 1579. It was reconstructed in the Baroque style in 1698. In one of the houses in the square there is the Museum of Šumava with historical and biological exhibitions of nature, gold mining, glass-blowing, production of the safety matches, etc.
The Neo-Romanesque Church of Our Lady of Snow, which was built between 1850 - 1867, can be found on the southern outskirts of the town. This church was founded because Kašperské Hory was a big and famous pilgrimage place and during the wakes the St. Margaret's Church was too small.
Near the road to Sušice, west of Kašperské Hory, there stands the St. Nicholas' Church in the place of original miner's seat.
The instructional trail called "Cesta Zlatokopů" (The Way of Gold Miners) leads around the town.
The protected area Amálino Údolí (Amálie's Valley) can be visited about 2 km south of the town. It is the preserved part of the valley of the Zlatý Potok (Golden Stream) with interesting geological formations.
Javorník mountain
Královský Kámen mountain
Strašín Cave
Vydra river and its valley
ruins of the Kašperk castle
small village Čeňkova Pila
small village Rejštejn
small town Hartmanice