The Strašín Cave lies about 1 km west of the small village Strašín in the abandoned quarry near the road from the town Sušice to the village Vacov about 10 km south-east of Sušice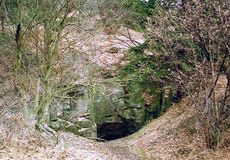 The main part of the limestone cave is 30 m long, 12 m wide and 3 m high. The stalactite and stalagmite formations typical of these kinds of caves are not found here (as in the Chýnov Cave). On the ceiling there are hollows called "Giants' Pots" formed by water.
The interior is not open to the public.
The quarry lies near the above mentioned road. It can be found on the yellow marked trail leading from Javorník mountain (about 10 km) or on the green marked path running from the small town Kašperské Hory (10 km) as well.