The town Sušice is sometimes called "the town of safety matches". It lies about 32 km south-east of the town Klatovy in the valley of the Otava river near the border of the Protected Landscape Area Šumava (Bohemian Forest), 472 m a.s.l.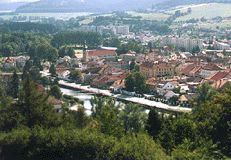 The town was founded in the 8th century as a settlement near a gold-bearing finding place. The former burial-ground on the eastern slope of Svatobor hill (845 m) above the town reminds of the ancient seat. In the 12th century the small town was under the ownership of the Lords of Bavaria (Germany); it was connected to Bohemia in the 13th century. Not long after it became a royal town and was fortified. During the Hussite Wars in the first half of the 15th century Sušice was the Hussite town. After the battle on Bílá Hora (White Mount; 1620 - the battle of Czech aristocracy against the Habsburgs' monarchy) most of the properties were confiscated. The destruction of the town was finished by fire in 1707, when most of the sights burnt down.
The history of the production of safety matches dates to 1838. They have been made in Sušice ever since.
Vestiges of the chalet from the Middle Stone Age (about 10 000 B.C.) were discovered not far from Sušice. It presents the oldest proof of inhabitants in the Šumava mountains.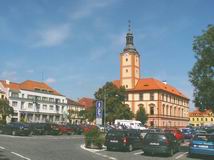 The oldest preserved sight is the remains of the Gothic town walls built in 1332. One of the oldest sights is the St. Wenceslas' Church founded in the first half of the 14th century. It was built in the place of the original chapel, which became a sacristy of the new church. After the fire of the town in 1707 the church was rebuilt into the Baroque style.
The Renaissance town hall, which was reconstructed to the present appearance in 1850, can be found in the centre of the town. The Capuchins' monastery with the Church of St. Felix of Nola founded in 1654 stands on the outskirts of Sušice.
The Early-Baroque Chapel of the Guardian Angel with the large cloister (added in 1735) was built between 1682 - 1683 on the hill called Stráž (Guard) above the town.
In the square there is the Museum of Šumava with exhibitons about the region on the upper reaches of the Otava river, the history of the production of safety matches and glassworks in the region. One exhibition is dedicated to the work of the writer Karel Klostermann. The building of the Museum is a typical example of the Late-Gothic town architecture.
Hamižná Hora hill
Svatobor hill
Strašín Cave
ruins of the Rabí castle
ruins of the Velhartice castle
small village Rejštejn