The remains of the large Rabí castle are situated on the upper reaches of the Otava river, about 480 m a.s.l., about 10 km south-west of the town Sušice on the outskirts of the village called Rabí.
This castle used to be one of the largest and the best fortified ones in Central Europe. Its donjon was the second largest in Bohemia (the largest is in the Karlštejn castle).
The Rabí castle was built at the beginning of the 14th century as a guardian castle near the trade route. Its core was a high observation tower supplemented with base-court and with farm buildings. At the beginning of the 15th century the castle was extended and refortified. At the time of the Hussite Wars the castle was captured by the Hussites (with their leader Jan Žižka who lost his second eye here) in 1421.
At the end of the 15th century the castle was grandiosely enlarged and fortified again and two square-shaped towers were built in the courtyard. The effect of this reconstruction was a nearly perfect fortification system with gun-bastions - the remains of enclosure walls are still preserved even to this day. The legend says, that the wagon could go on.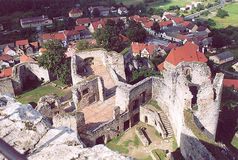 An important example of the medieval buildings are the castle cellars, preserved in good condition up to the present day. In the 16th century the castle (under the ownership of the Švihovský family) became very important because many political negotiations took place there. Then the Švihovský family, the proprietor from the second half of the 14th century, sold the castle. Through the second half of the 16th century the castle was desolate and during the Thirty Years' War it was completely destroyed and it became a source of material for building the village.
The ruins of the castle were reconstructed and preserved in the 1980's.