The castle towers above the small Ostružná river near the border of the Protected Landscape Area Šumava (Bohemian Forest) about 10 km north-west of the town Sušice in the surroundings of the village of the same name, 705 m a.s.l.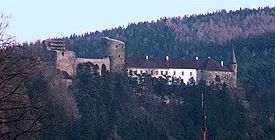 The original castle was built in the 13th century - it was a seat of the family from Velhartice. The castle was enlarged during the 14th century - the tower, the bridge and parts of walls were added. The Czech crown jewels were hidden there in the 15th century. The ownership of the castle changed many times. After 1628 the part called "New House" was built, but the castle dilapidated.
The present castle is an important sight of the fortification system of the 14th century. Its dominant feature is the tower called Putna towering above the central gate.
The ruins can be found on the red marked trail about 15 km far from Sušice or on the blue marked path about 27 km far from the small village Hojsova Stráž, 9 km from the village Kolinec and about 13 km from the village Čachrov. Access is possible along the road from the village Velhartice too.