The village Kolinec lies about 10 km north-west of the town Sušice, 543 m a.s.l.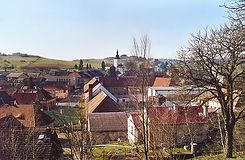 Originally it was property of Czech kings and later, from the beginning of the 15th century till the middle of the 16th century, it belonged to the Velhartice castle. Then not very important owners often changed here.
The most valuable building in Kolinec is the Early-Gothic Church of St. James the Greater. It was built at the end of the 13th century in the place of the original small Romanesque church from the turn of the 13th century. Another sight is the small Baroque stone bridge over the Kalný Potok (Cloudy Stream). It originates from the 18th century and it is a protected technical monument.
The Jewish cemetery from the 17th century can be found on the eastern outskirts of Kolinec.
A lot of remains of the medieval gold mining can be seen in the surroundings of the village.