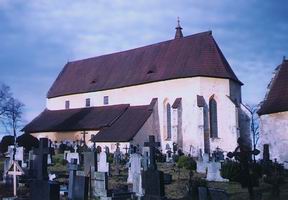 The St. Nicholas' Church stands near the road from Kašperské Hory to Sušice in the place of the original gold miner's seat.
The Gothic church dates from before 1330 and it was reconstructed in the Baroque style in the 18th century. Its layout is similar to the St. Margaret's Church in the square.
The three-aisled basilica has a monumental spiky moulded portal in the western front. The presbytery is arched with the ribbed cross vault. The wooden ceiling (with paintings) in the aisles is from 1700. The cycle of the Gothic figural paintings from 1332, one of the best preserved relics of the Czech Gothic painting, can bee seen on the walls and columns.
The Baroque furnishings in the church come from about 1700.
The church can be found on the yellow marked path leading from Kašperské Hory. The column of the crucification from 1630 stands near the path on the foothill of the so-called Šibeniční Vrch (Gibbet Hill). It was originally the pillory in the square in the town.