The very well preserved ruins of the Gothic Kašperk castle tower on the rock spit above the Otava river about 3 km south of the small town Kašperské Hory. It is the highest situated royal castle in Bohemia (887 m a.s.l.).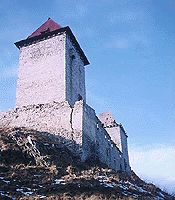 The Kašperk castle was established by Charles IV for the protection of the gold mines in the surroundings of the town Kašperské Hory. It was an important regional strategic place for the King, along the Czech-Bavarian border. In 1585 the town rented the Kašperk castle and later bought it. It was the beginning of the end of the castle - the town did not take care of it and it became a source of building material.
In the 20th century Kašperk was reconstructed and conserved and opened to the public.
The Kašperk castle is the typical example of the Gothic castle architecture of the 14th century with its residential palace situated between two towers. Now only a part of the fortification and palace with both towers and the western gate have been preserved.
The green marked trail leads to the ruins from Kašperské Hory (4 km). Access is available from the parking-lot on the road from Kašperské Hory to the town Sušice (about 2 km) as well.
The remains of the advanced fort called Pustý Hrádek ("Empty Small Castle") can be found not far from the castle, about 500 m to the east.