The small mountain town Hartmanice lies about 10 km south-west of the town Sušice near the border of the Protected Landscape Area and the National Park Šumava (Bohemian Forest), 712 m a.s.l.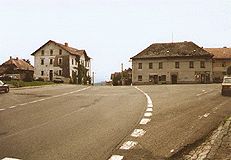 Hartmanice is the oldest seat in the so-called High Šumava. The customs office already existed in this place on the trade route in 1209. Later it was medieval miner's seat near the finding places of gold. It became a small town at the beginning of the 14th century with many rights and its importance grew till the beginning of the 17th century. During the Thirty Years' War it was burnt down and it was desolate for a long time. The new development of the town began in the second half of the 17th century. The remains of the adits can be found in the forest about 3 km west of the town.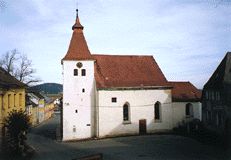 The oldest building in Hartmanice is the Late-Gothic St. Catherine's Church. It originates from the 15th century and its present appearance is from the Baroque reconstructions in the 18th century. The single-aisled church has a tower on the western side.
The fountain in the small square originates from the first half of the 19th century.
The town is an important winter holiday centre in the western part of the Šumava mountains.
The pilgrimage place Dobrá Voda ("Good Water") lies on the slope of the Březník mountain about 3 km south of Hartmanice.
instructive trail Hamižná hora
Strašín Cave
small village Dobrá Voda
small village Annín
small village Rejštejn
small village Čeňkova Pila
town Sušice
small town Kašperské Hory
Kašperk castle