The small village Annín lies on the left bank of the Otava river below the Mouřenec hill, 617 m a.s.l. It is located about 6 km south of the town Sušice on the border of the Protected Landscape Area Šumava (Bohemian Forest).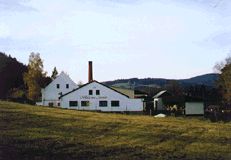 The history of the village is not long, but it is the place of three unique sights. In the glassworks, founded here in 1796, the first ruby glass using gold in the former Austro-Hungarian Empire was made here. The village was the first place in former Czechoslovakia where electricity was used for melting glass (1934). And it was the place with the first car-camping in Czechoslovakia - it was built on the bank of the Otava river near the road from Sušice to the small town Kašperské Hory.
The Romanesque St. Morris' Church originates from the turn of the 13th century. It is situated on the Mouřenec hill above the village and it is one of the oldest kirks in the surroundings. It was the parish church of German settlers for a long time. In 1992 it was reconstructed.
The Mouřenec hill offers nice views of the country and of the ruins of the Kašperk castle.