The pilgrimage place Dobrá Voda ("Good Water") lies about 3 km south-west of the small town Hartmanice on the border of the National Park Šumava, 887 m a.s.l.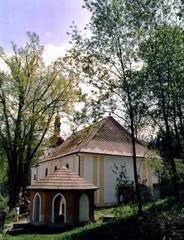 Originally there was only a chapel. In the 17th century the village called Březnice arose around it. It was named after Březník mountain, which towers above it to the height 1006 m a.s.l. At the end of the 18th century the village was appended to the domain of the property Prášily.
The most important sight is the Church of Blessed Gunther, built from the original chapel from the turn of the 17th century. The chapel was rebuilt into the church in 1754 and the tower was added in 1777. Interior furnishings are in the Baroque style, the statue of Blessed Gunther originates from the 15th century. The new glass altar was installed into the church at the turn of the 21st century. It is nearly 5 m wide and 3.5 m high and its weight is about 7 tons.
Near the church there is a spring of the so-called "Good Water", which gave the new name to the village.
The Jewish Museum of Dr. Šimon Adler can be visited in the village. The important glass-maker and rabbi died 1944 in the Nazi exterminating camp in the town Oświęcim (Poland).
The remainders of gold-mining can be seen in the vicinity of the church.
The Chapel of Blessed Gunther is situated on the slope of Březník mountain above the village in the place of the original hermitage of hermit Blessed Gunther.