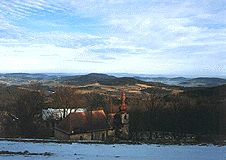 The peak of Březník mountain offers one of the most beautiful views of the Šumava mountains (Bohemian Forest). It towers above the small town Hartmanice to the height 1.006 m.
From the mountain there are nice views of the valley of the Otava river and of the whole countryside around.
The friar Gunther brought the army of German Emperor Henry III to Bohemia through the valley around Březník mountain in 1041. The small chapel of Blessed Gunther stands on the slope, probably in the place of his former hermitage.
The pilgrimage place Dobrá Voda ("Good Water") lies on the slope of the mountain (about 3 km south of Hartmanice).
The blue marked path, which runs from Hartmanice, joins the green one leading to the peak (about 4 km).