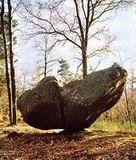 The trail runs in the countryside along the dividing line between South Bohemia, and Central Bohemia in the vicinity of the small town Petrovice.
The trail acquaints visitors with natural, technical, ethnical, and historical interests of this region.
The trail is intended for pedestrians, but most of the path is also passable for cyclists. It is 27 km long with 20 informative boards and with several resting places at the lookout places.
The point of departure is in Petrovice in the square. Most of the trail leads in the Central Bohemia, in the region round the town Příbram.
| | |
| --- | --- |
| | |
Interesting places on the trail:
Obděnice - village with the Church of the Assumption of Virgin Mary (a famous Czech builder of ponds Jakub Krčín z Jelčan is burried there)
Vrškámen - the biggest logan-stone in the Středočeská Pahorkatina (Middle Czech Hillycountry) - on the outskirts of Petrovice
Husova Kazatelna (Huss' Pulpit) - very nice logan-stone with the so-called "Giants' Pots" (near the settlement Vilasova Lhota)
Kozinec - nature reserve (flora on the limestone subsoil)
Divišova Jeskyně (Diviš's Cave) - karstic cave, a part of the large karstic area (about 3 km north of Petrovice)
Hodětín hill (572 m) - observation tower and Stations of the Cross
Kuní - Stations of the Cross