The small town Petrovice is situated about 12 km north of the town Milevsko on the dividing line between South Bohemia and Central Bohemia. It lies in the countryside full of stones along the small river called Brzina, 450 m a.s.l.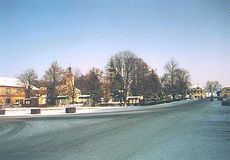 The history of the town dates back to the 12th century. It was a seat of members of the Czech lower nobility. In the 17th century it was a seat of Jesuits, who built the mansion here.
The Church of Sts. Peter and Paul, which stands in the square, was built in the Gothic period, but in the 18th century it was rebuilt into the Baroque style. In 1934 the church burnt down and the valuable main altar was destroyed.
The collector of folk proverbs František Doucha worked as a chaplain in Petrovice.
The instructional trail leading through the countryside round Petrovice acquaints visitors with beauties of nature in this region.
Not far from Petrovice (about 3 km north-west) there is an observation tower on Hodětín hill (572 m), above the small village Kuní. The Stations of the Cross leading near the observation tower originate from the turn of the 21st century and the stations are from granitic stones typical in this region.