The village Kovářov lies about 10 km north of the town Milevsko in the Středočeská Pahorkatina (Middle Czech Hillycountry), 552 m a.s.l.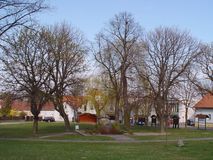 The oldest sight of the village is the Gothic All Saint's Church. It probably dates from the 12th century, because it was already known as a parish church in 1220. The tower was added in 1712.
In the surroundings of the Baroque rectory in the northern part of Kovářov there is a small hill with a Calvary. This sculpture is attributed to the Brokoff's workshop. The sculpture of St. John Nepomucene in the square near the church probably comes from the same workshop.
In the second half of the 20th century the uranium mines were in Kovářov. The slag heap on the southern outskirts of the village is from that time.
The old Jewish cemetery can be found on the foothill of the small hill called Kovářovská Hůrka on the north-western outskirts.
| | |
| --- | --- |
| | |
The instructional trail Kovářovsko (Kovářov Region) leads around the village. It has 20 stops with informative notices referring to the most important places of interest in the region.
Not far from Kovářov, on the Koňský Vrch (Horsey Hill - 588 m), there is the 17 m high observation tower, which was built in 1941. It is not open to the public. The top of the hill is a preserved geodetic point.
At the beginning of 2001 the new 14 m high wooden observation tower was built on the hill (627 m) above the village Lašovice about 7 km north of Kovářov.