The nature trail Po Hrázích Vrbenských Rybníků (Along the Dams of Vrbné Ponds) leads in the nature reserve Vrbenské Rybníky (Vrbné Ponds) on the north-western outskirts of the town České Budějovice, in the neighbourhood of the town quarter České Vrbné.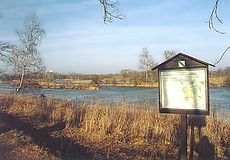 The 4 km long path leads along the dams of the ponds in the reserve: Černiš, Domín, Nový Vrbenský Rybník, and Starý Vrbenský Rybník ponds. It has 10 stands with informative boards about the most important places of interest and about the species of animals and plants which live here - these ponds are favourite rookery for series species of water birds.
The trail also offers a nice outing for town inhabitants and visitors.
The trail is dedicated to both pedestrians and cyclists. The point of departure is on the dam of Nový Vrbenský Rybník pond, the destination is on the dam of Starý Vrbenský Rybník pond.
The path is marked by the green signs.
Interesting places on the trail:
Water vegetation, dabchicks
Waterside growth
Swamp (marsh) alders
Ducks
Gulls and terns
Swamp (marsh) and quaggy grassfields
Cultured grassfields
Geese and herons