The small village Holašovice is situated about 15 km west of the town České Budějovice in the Protected Landscape Area Blanský Les (Blansko Forest), 498 m a.s.l.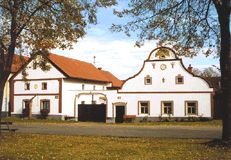 The first mention of the village comes from 1263. Its present appearance has been very well preserved since the 19th century. The homesteads with painted and decorated gates and gables (the so-called rural South Bohemian Baroque) can be seen around the characteristic oblong small square with the small pond. The majority of houses have been preserved with their inner trichotomy, which was planned for the living of three generations.
The Late-Baroque village chapel from 1744 stands in the centre of the small square too.
The unique preserved village has been protected by UNESCO since 1998.
Holašovice and the neighbouring village Plástovice are often used for making films due to the authenticity of the environment of the 19th century.