The small village Plástovice is situated 9 km west of the small town Hluboká nad Vltavou, 398 m a.s.l. It is one of the centres of the marshlands called Hlubocko-Zbudovská Blata.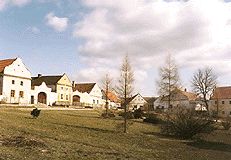 The first mention of Plástovice is from 1360. In present it is one of a few villages with very well preserved look from the 19th century. A unique collection of old houses with the ornate gables can be seen around the small square. They are designed in the style of the so-called rural South Bohemian Baroque.
Plástovice and neighbouring Holašovice, the village with the similar character, are often visited by film-makers because of the authentic environment of the 19th century.