The small town Malšice lies 9 km south-west of the town Tábor, 502 m a.s.l. The Křižík's electric railway leads through the town.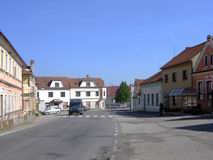 The history of Malšice dates back to the second half of the 14th century. It was founded by the Rožmberks, but soon, during the Hussite Wars, it was devastated. It was rebuilt in the middle of the 18th century.
The most valuable sight is the Church of the Most Holy Trinity. It was originally a Gothic building, which was founded together with the town in the 14th century. It was rebuilt into the Baroque style together with the rebirth of the village in the 18th century. A few houses in the style of the rural South Bohemian Baroque from the 19th century can be seen in Malšice.
Černická Obora game preserve
ruins of the Příběnice castle
ruins of the Dobronice castle
town Bechyně
town Tábor
village Stádlec