The village Stádlec is situated 14 km south-west of the town Tábor near the Lužnice river, 449 m a.s.l.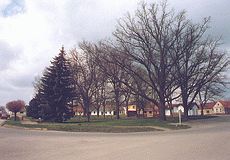 Stádlec is first mentioned in the 13th century. The Renaissance mansion, which stands in the square, was founded around 1560. It was enlarged and reconstructed in the Baroque style between 1730 - 1740. It used to be property of the important Czech inventor František Křižík, who lived here last years of his life. The volute gable is closed with the turret with the dome.
The big Baroque chapel built in the 1720's stands in the mansion precinct.
The unique suspension bridge spans the Lužnice river not far from Stádlec on the road in the direction of the small town Malšice.