The town Horažďovice lies about 15 km north-west of the town Sušice on the Otava river, 427 m a.s.l.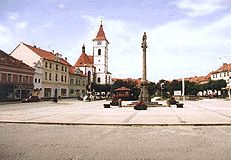 The originally market seat was founded on the left bank of the Otava river by Bavor I of Strakonice. The village became a town and it was fortified in 1293. A small water fortress, which formed foundations of the present chateau, was built here at that time as well. After the neighbouring Prácheň castle declined the town partially became an administrative centre of the region and it acquired some rights. Due to this status and the gold mining on the Otava river the town grew quickly in the Middle Ages and it became an important mercantile centre.
The town was captured twice in the 14th century. For the first time by the soldiery of King Rudolph I and later, in 1399, by King Wenceslas IV. During the Hussite Wars in the 15th century the town was allied with the Hussites. The development of Horažďovice, lying on the trade route between the towns České Budějovice and Plzeň (Pilsen), increased and it culminated in the 16th century, when the duct was constructed there.
At the time of the Thirty Years' War Horažďovice was plundered and burnt down. The new development started in the 18th century, but it stopped soon, because the town did not cooperate in the construction of the railroad from České Budějovice to Plzeň.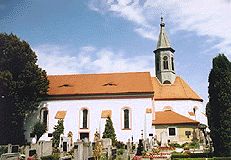 The Baroque chateau with the town museum stands on the north-western border of the square.
The remains of the double town walls from the 14th century can be seen between the Pražská Brána (Prague Gate) and Prachatická Brána (Prachatice Gate).
The parochial Gothic Church of Sts. Peter and Paul is situated in the square not far from the chateau. It was founded together with the town in the first half of the 13th century.
The Church of St. John the Baptist can be found in the cemetery. It was built in 1598.
The speciality of Horažďovice was breeding of pearl-oysters in the feeder on the Otava river. The pearl-oysters lived in the river through centuries and from the 18th century they were bred here. About 12,000 shells were put into the river in 1775. The breeding declined because of the contamination of water and because of a lot of poachers. It totally stopped after the Second World War.
The open-air museum of folk architecture can be visited in the village Chanovice, not far from Horažďovice (about 10 km north).
ruins of the Rabí castle
ruins of the Prácheň castle
village Střelské Hoštice
small town and chateau Lnáře
small town Nalžovské Hory
town Sušice