The small town Lnáře is very well-known due to the local chateau and monastery. It lies 10 km north-west of the town Blatná in the countryside full of ponds, on the Smolivecký Potok (Smolivec Stream), 565 m a.s.l.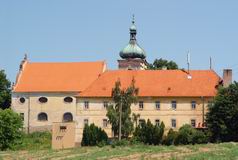 The first mention of the town is from 1313. It was a well-known place of fishery - legend says, that 365 ponds were here and a new one was founded every leap year. A Gothic fortress stood here in past. It was rebuilt into the Renaissance chateau in 1597. Later it was used as a brewery and since the 1980's has been for residential use.
The foundations of the new Early-Baroque chateau were located near the old one in 1670. Its construction finished in 1686.
The monastery of the Discalceate Austin Friars stands on the eastern outskirts of Lnáře. It was founded between 1688 - 1693. The monastic Church of the Most Holy Trinity was built between 1706 - 1723. The tower with the dome was added in the middle of the 18th century.
Valuable furnishings and paintings (including the painting of the Madonna of Lnáře from the 15th century) can be found in the church.
František Štěpán Kott, an important Czech lexicographer, was born in Lnáře.
The instructional trail Okolím Lnář (Round Lnáře) leads through the town and its surroundings.
village Kasejovice
village Bělčice
town and chateau Blatná
town Horažďovice