The small town Nalžovské Hory is situated about 11 km west of the town Horažďovice, 514 m a.s.l.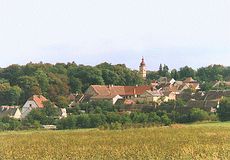 Originally this town was two separate villages Nalžovy and Stříbrné Hory ("Silver Mountains") near the silver finding place. Nalžovy has been known since the second half of the 14th century. Its flowering came with silver mining, which started here in 1521. Stříbrné Hory became a town in 1853. Silver, tin and lead were mined here. The mining finished in 1896. In 1951 both villages were connected and the new town was named Nalžovské Hory.
The Baroque chateau, which stands in the large park in the part of the original village Nalžovy, was founded in the 17th century. It was reconstructed together with the surrounding park in the 1840's. The Baroque St. Catherine's Church was built in Stříbrné Hory at the beginning of the 18th century.
The hill called Prašivice (575 m) with a large forest park lies about 2 km north-east of Nalžovské Hory.