The small ruins of the originally large Prácheň castle are situated at the top of the hill Prácheň (504 m) above the valley of the Otava river about 2.5 km south-west of the town Horažďovice.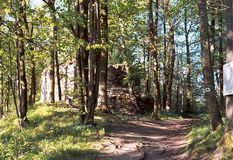 The Slavonic fortified settlement was originally here. Then, at the latest at the end of the 11th century, the court castle was founded here. It was abandoned in the second half of the 13th century, but at the beginning of the 14th century the construction of the new Gothic castle started on the remains of the old one. Before the construction the town Horažďovice became a new administrative centre of the region. The new castle became unimportant and it was abandoned and disappeared in the middle of the 16th century. Only the remains of the round tower have been preserved.
The small Gothic St. Clement's Church from the 13th century stands about 0.2 km far from the castle near the parking-lot.
The ruins can be found on the green sign leading from Horažďovice (about 3 km) or from the village Velké Hydčice (about 3 km) or on the road from Horažďovice to Velké Hydčice, turning-off to the right about 3 km beyond Horažďovice.