The small town Chýnov is situated about 10 km east of the town Tábor, 488 m a.s.l. It is a well-known place due to the Chýnov Cave, one of the biggest lime caves in Bohemia.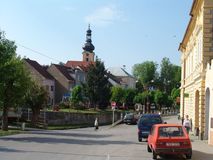 The important Czech chronicler Kosmas indicated the existence of the guard castle in that place as early as the end of the 10th century. The new Gothic castle was built here in the 13th century and it was reconstructed into the Baroque chateau between 1729 - 1730. The large English park is around it. The stone table can be seen in the courtyard. The legend says, that Jan Žižka ate at this table.
The Baroque Church of the Most Holy Trinity, which stands in the square, was rebuilt from the original Gothic church between 1667 - 1670. Its tower originates from 1727 and the furnishings are from the 18th century. The tinny font was made in 1626.
Chýnov is a hometown of the important Czech sculptor František Bílek. His statues can be found in the cemetery and he himself has a monumental statue called "Modlitba nad hroby" ("Rogation on Graves") above his grave.
Chýnov Cave
nature park Josafatské Údolí
ruins of the Choustník castle
small village Křeč
small village Ratibořské Hory
ruins of the Kozí Hrádek castle